The NMITE philosophy seeks to revolutionise engineering education, where diversity in the discipline is fundamental.

The confidence to make and learn from mistakes, and the multicultural translation ability to find opportunities that make sense to stakeholders.
---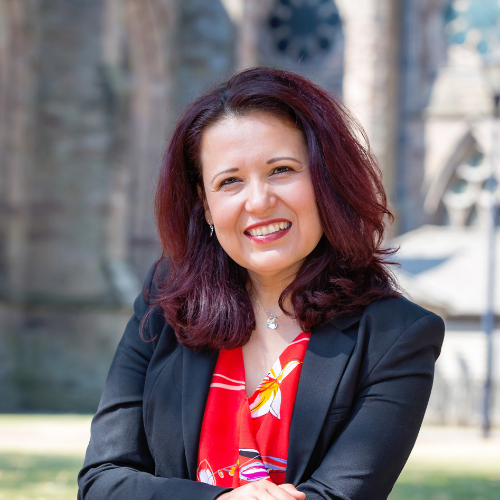 Interview conducted by Isabel Macías (Vice President) and Oscar Álvarez-Macotela (Strategic alliances) from RGMX-UK.
01 MARCH 2021
---
Isabel Macías (IM): What motivated you to move from Mexico and why to the UK?
Prof. Elena M. Rodríguez Falcón (EMRF): It is a long story. I studied to be an administrative mechanical engineer in Monterrey from 1989 to 1994. I had a job at 'Cementos Mexicanos' (CEMEX) with an engineer who was the vice-president of logistics at the company level: Jesús Organista. He has been a huge influence in my life. He taught me two very big lessons: one, that in his department I should have the confidence to make mistakes and learn from them. The other was that he told me: "Elena, if you don't learn English, you'll never be as successful as you could be." My English was very basic back then, so after working for several years in other companies in the manufacturing industry in Mexico, I decided to study for a master's degree in business administration to complete my engineering training and improve my English at the same time. The plan was to complete the master's degree in two years and come back.
I decided to come to England because, as an engineer, I'd had many friends who had studied for master's degrees and doctorates at the University of Sheffield. I was aware of its reputation in engineering, so I chose Sheffield. Almost at the end of that time, I decided that one way to see if my English had improved enough was to do a job interview in English. Being in a pressure situation, where you have to behave professionally, and you are alone. I saw that there was an opportunity at the University of Sheffield. They were looking for someone with an engineering and management profile in areas of innovation and entrepreneurship. I realized that I had a chance of being interviewed, and they offered me the job. It was supposed to be a one-year contract and, 23 years later, I'm still here.
IM: Culturally speaking, what were the main challenges here in the UK, especially concerning attitudes towards education and work?
EMRF: I came to England to study for the MBA, but I focused on improving my English a few months before starting the program. Adapting to English is one of the main challenges I faced; it is common for many people from other countries, especially if English is not your first language. It sounds simple, but the English that I had learned in Monterrey was American, and when I got to Sheffield, I faced not only British English but the Yorkshire accent; I did not understand them at all.
That was the question of language, but there was also the challenge of culture and the teaching style, which were also challenges for me. To adapt to the type of relationships you establish here you have to learn, and learn very fast. The pedagogical methods used here, if you go into engineering, are very similar but, at the same time, they are not. Before coming here, I was studying for a master's degree in Mexico, and it was very didactic; however, when I started doing my master's degree here, I suddenly realized that research was a very important element of it! And I didn't have the training or the tools to do it the way they expected. So it was a surprise to me, but you adapt.
I had learned that asking for help is important and that listening, respecting and enjoying culture are tools that get you ahead, but you find that everything before you is different. And you miss family, the food, the weather, and how you are used to doing things. The challenge is knowing how to overcome that and at the same time enjoy what you are learning. See the nice side of it, because if you don't enjoy it, you find yourself resenting it in a way that is not useful. I think it's that resilience of continuing even though it's hard. Keeping going, that is what has led you all, and me, to still be here after so many years.
IM: And at work, have you encountered any challenges in adapting to the work culture?
EMRF: One of the first things I discovered was in that job interview that I wanted to use to test my English level. In addition to proving that I had already improved my English, I discovered that several people interview you, not just one. On that occasion, there were three people. I was impressed. Over the years, up to 15 people have interviewed me in one room. That is an example of the differences that I encountered.
Another difference was that I moved from industry to academia. In Mexican industry, it is very clear what your job is, what you have to do, who your boss is and who the people who are going to help you are In academia, it's different, and it's different in Mexico as well. One of the things I discovered here is that, although the first job they offered me was to design a career in engineering with entrepreneurship −that was the project− all of a sudden, without me realizing it, they had assigned me a class to give lessons, to teach, and I did not expect that. Suddenly, I'd got myself two jobs! When I told my family and friends in Mexico that I was doing that job and another one, and another, all within the same activity package, some of them told me: "But they pay you more", and I said to them: "No, what you have to do is more and, if you do more, then they promote you to the next position!" Not the other way around, as one saw it in Mexico. That's the type of differences that I've identified, but you get used to it, and it's fun; once you see it, you understand that you have to prove that "I'm worth that amount and since I show it, well they pay me".
IM: As a Mexican, what values and skills have helped you to progress here?
EMRF: We Mexicans are very creative. When we encounter a problem or challenge, even if we lack resources, we can find solutions that people from other cultures aren't equipped to see. And that has helped me a lot, especially in the job I have now. When you work in an organization where you have almost infinite resources and practically infinite help, what emerges is that you are more efficient. That has helped me a lot. If you are creative, you are more efficient. You advance faster than the others, and then it shows, but in jobs like the one I have now, in which the resources are limited, the work is bigger than the resources we have, so being creative has been one of the most important tools. Also valuing and celebrating people, family, colleagues and others. That's not very British. When you are a person who has the courage to celebrate others, as a leader above all, it really helps people to respect you, love you, admire you, and help you. That is a value that I only have because I am Mexican. It wouldn't have been the same if I were from another country.
From another point of view, I have also learned that valuing time and using it carefully is very important. That's something that maybe we don't do so well in Mexico. Here you have to make the most of it because your time is very limited. There are things that I have learned from this country that help me a lot, and I make the most of the time and even more for being creative. If you use both, all of a sudden you can achieve more than a person who works their regular hours normally.
Time management is critical in all cultures, not just in the UK. When I was in Sheffield, I had almost 400 students from 45 countries with different cultures in one group. It is a very multicultural country in nearly all the places where I have lived. And when you work with such multicultural people, you have to adapt very quickly. The most important thing is to learn what other cultures appreciate and what they do not very fast because, you can be disrespectful if you are not careful of other people's cultures, it's dangerous.
On the contrary, if you know how to draw on and get the most out of those cultures, you can be very successful quickly. That is something I have learned here in the UK: 'Learn cultures fast' and, before making assumptions, ask. The experiences of interaction with students have been very enriching. It is helpful to research, read, inform yourself and ask questions.
Oscar Álvarez-Macotela (OAM): With respect to the new model offered by NMITE, who is the beneficiary and what problem is it solving?
EMRF: To answer, I'll talk about the philosophy of this institution, which is based on revolutionizing engineering education, and where diversity in the discipline is fundamental. Diversity of ideas only comes from diversity of communities. So our vision is to create an inclusive environment with 50 per cent participation by women. This is an enormous challenge. It's an ambition that forms part of our philosophy.
The educational model in particular is integrated. We do not focus on a specific engineering discipline, but rather the program we have integrates foundations from various engineering disciplines such as civil, mechanical and electronic. It also integrates liberal aspects, such as ethics, sociology, economics and the arts. And it provides an accelerated education in three years instead of four. Usually, a Master of Engineering (MEng) takes four years here in the UK; ours will take three. It's cheaper for students and you end up with trained engineers who'll meet the demand as soon as possible.
One of the problems that we are trying to solve is the lack of engineers in this country. There is a shortage of approximately 20,000 engineers a year. It is a lot. The sooner they graduate, the sooner they get into the industry. The more women we attract to engineering, the more engineers we will have and of a more diverse quality. To create a diverse and integrated environment, we need diverse and interdisciplinary educators. The virtuous circle of training integrated engineers requires professionals from various disciplines -law, engineering, economics, geopolitics, culture, etc.-, is necessary to train these integrated and interdisciplinary engineers.
The emphasis of this institution is learning to learn; that is the fundamental philosophy. Where employability is at the centre of education and where education feels as though you are employed, almost with 9 to 5 , Monday to Friday working hours. These are not traditional classes, it is a work schedule. Students work in small teams, learning through real projects with real clients. Each project has a duration of approximately one month, for three years. The work areas are spaces that feel like you are in the office.
The model considers the fact that traditional exams do not measure learning but a good memory. Instead of having exams, we will have a portfolio of work, like in architecture, so that engineers, when they graduate, can demonstrate what they are capable of and not just the qualification or how well they remembered an equation.
Finally, the beneficiaries are the engineers who are going to graduate as real engineers. Not like me, who was still at the student level when I graduated. I realized that immediately. I had not worked in engineering, I went to work in a company, and suddenly I was responsible for 200 workers, all men. I was the only woman, 23 years old, recently graduated, and the truth was that they took the mick out of me because I had not been trained to work as an engineer but had been a student. The more employable engineers there are, the more the industry benefits. The more diverse engineers there are, the more the industry, the locality, the country benefit. The more this pedagogical model works, the more higher education institutions benefit. Not only ours, but others that learn from our pedagogical model. I hope it is a virtuous circle and, in the end, that the engineers being trained and educated through understanding the context of where they live and by that liberal education, will be able to solve the world's problems, such as sustainability or simply to be more efficient and have a more human quality.
OAM: In this interdisciplinary context, thanks to the integrated model, which you've explained to us, could you tell us something more about the challenges and opportunities of opening appropriate spaces and moments that facilitate the participation of trainee engineers in this diversity of opportunities?
EMRF: No discipline can work in isolation from the others. That has never been a reflection of reality. In the context in which we live, the challenges presented to us are very complex. Taking the example of the pandemic, we can see the need for doctors, scientists, economists, politicians, philosophers, psychologists, etc., to be people who  together. And that's before getting to the vaccine. When arriving at this, it is seen that it must be produced, distributed, given an ethical and moral price, then administer it. And suddenly, you find yourself in the world of engineering, logistics, marketing, communication, nursing. It's an example that illustrates the type of interventions that engineering needs. The projects that our engineering students are going to have are complex. All projects are complex, and we realize very quickly that these interventions need to be integrated, as if they were happening in the real world.
Let's imagine an office with 25 people working on a project; for example, one from the NHS, for brittle bone disease (osteogenesis imperfecta) patients who need to learn to walk, but if they fall they break the bones and don't learn, which means they are more likely to fall again. It is a vicious circle. So one solution is to give that project to engineers. Perhaps they will design a device to meet the need. They will have to learn about materials: what kind of material is light enough but robust. That is engineering, design, learning and understanding customer needs. For example, we need a doctor to come and explain what the condition is and what type of medicine is required. What kind of ethics do you need to consider? Is it possible to talk to a three-year-old about medical solutions or do we need the presence of the parents, or just an authorization from the parents? These are types of interventions that we have implemented within the educational program. It is very well-coordinated so that students do not perceive it as if it were a medicine class. Instead, a doctor will enter the room with some of the information, a philosopher will talk to them about ethics, a sociologist will give them relevant population information in connection to their project's challenge. It is complex, but it will be effective as it arrives day by day.
At the macro level, outside of NMITE, education has to adapt to this interconnected and interdisciplinary world. It is no longer possible to take scattered, isolated classes and expect students to find the relationship between those classes. Education itself needs to reflect the significant challenges we face. The philosophy of NMITE is going to give rise to a revolution in education. And this way of responding to challenges is proliferating. It is very interesting. I think it's the area of our model that I like the most. Engineering itself, engineering techniques, anyone can learn them, but understanding what is needed, the problem, translating it to people's needs and then to the solution itself is what's complex.
OAM: Considering your experience and knowledge of both the United Kingdom and Mexico: how could the Mexican Global Network in the UK (RGMX-UK) contribute better to the community of Mexican and British institutions like the one you represent? What kind of actions do you propose, to explore and become more relevant, to support different people around here?
EMRF: It is a difficult question. Two things come to mind: one is the role of translating culture. As Mexicans here we have the great fortune of having had to learn, sometimes the hard way. We had no other choice, but culture and the benefits of both sides' cultures are important. You commented that sometimes in Mexico there is an apathy about relationships, collaborations, alliances that we can establish with organizations in the United Kingdom and, I think, also in other countries. I don't think it's a surprise, because Mexico is evolving; it has a tendency to see itself as a country, reflecting. We want to establish agreements with other countries to learn from them, but we still do not learn from ourselves. I understand why this is happening.
Ultimately, the RGMX-UK is important because it can provide a different perspective, in contrast to the introspectiveinsight we see in Mexico. You have to look outside too. Above all, because we are now entirely interconnected. I think that this translation of culture and the ability to find the opportunities that make sense for the Mexicans… Often, we try to hunt for opportunities that are available, but not necessarily the right opportunities. Some are forced because they are available at the time. I would like to see what the things that make sense for both countries are, and then see if we can facilitate them. That way they'll be more successful. That's why some projects come to an end very quickly, for example, if they are vehicles to access financing and not to make a real change. They help a little, but they are not the ones that are successful in the end.
IM & OAM: Thank you for taking the time to chat with us. We've been enriched by many ideas!